Differences between revisions 14 and 15
←

Revision 15 as of 2022-03-06 12:09:59

→

⇥

Deletions are marked like this.

Additions are marked like this.

Line 9:
Line 9:
The Open Source Protein Interaction Platform (openPIP) is an open

source software package for hosting protein-protein interaction (PPI) data based on the [[https://code.google.com/archive/p/psimi/wikis/PsimiTab27Format.wiki|PSI-MI-TAB format]]. openPIP provides PPI database and a customizable web interface that enables searching and visualizing the interactions as well as downloading the search results in different formats. The whole system is a ready-to-use virtual machine that can be imported to VMware.
The Open Source Protein Interaction Platform (openPIP) is an open

-

source software package for hosting protein-protein interaction (PPI) data based on the [[https://code.google.com/archive/p/psimi/wikis/PsimiTab27Format.wiki|PSI-MI-TAB format]]. openPIP provides PPI database and a customizable web interface that enables searching and visualizing the interactions as well as downloading the search results in different formats. The whole system is a ready-to-use virtual machine that can be imported to VMware.
Line 28:
Line 28:
== openPIP Live Demo ==
A live demo of openPIP is available at [[http://openpip.baderlab.org/|openpip.baderlab.org]]
Line 29:
Line 31:
== openPIP GitHub Repo ==
The openPIP GitHub repo can be found [[https://github.com/BaderLab/openPIP|here]]
openPIP: The Open Source Protein Interaction Platform

Brief Description
The Open Source Protein Interaction Platform (openPIP) is an open-source software package for hosting protein-protein interaction (PPI) data based on the PSI-MI-TAB format. openPIP provides PPI database and a customizable web interface that enables searching and visualizing the interactions as well as downloading the search results in different formats. The whole system is a ready-to-use virtual machine that can be imported to VMware.
A live version of openPIP is available at this link.
openPIP Features
Data deposition is the PSI-MI-TAB format, the PPIs standard format.
Hassle-free customization, change the look and contents for the admin tool, no coding required.
Comprehensive search options.

Search results visualization using Cytoscape.JS

Downloading search results in five different formats including TSV, PSI-MI-TAB, PNG and JPG.
Automated post/delete news and announcements.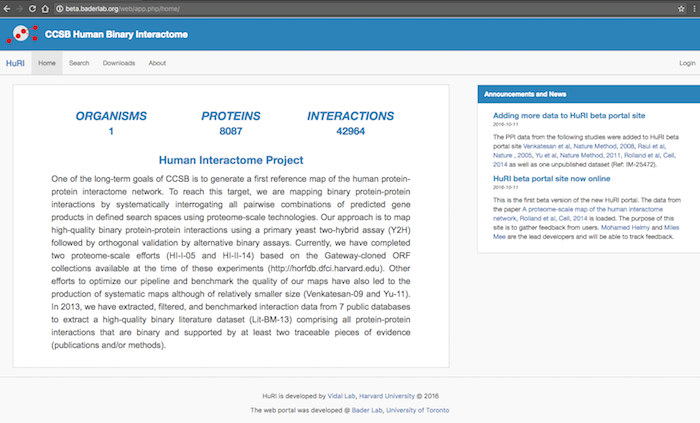 openPIP Homepage: The homepage contents are editable through the admin tool.
This includes the main text, footer, announcements and news, color theme, database name, database short name and logo colors.

openPIP Global Settings: The global settings enables customization of the website look.
openPIP Live Demo
A live demo of openPIP is available at openpip.baderlab.org
openPIP GitHub Repo
The openPIP GitHub repo can be found here
---